Dual careers: win on Sunday, study on Monday
Ever wondered with it's like to be a professional sportsperson while holding down a full-time job? All while sitting some of the toughest professional exams in the world? We have, so we sat down with our colleague Beth Goodwin to learn what it is like to study to become a Chartered Accountant, work for Consilium and play for Scotland.
Scotland is heading to the World Cup
Consilium's sporting star is even bubblier than usual when we sit down to talk about life as a CA trainee. Beth and her Scotland teammates have recently secured their place at the 2023 Netball World Cup in South Africa. Due in no small part to some stellar performances by the 23-year-old.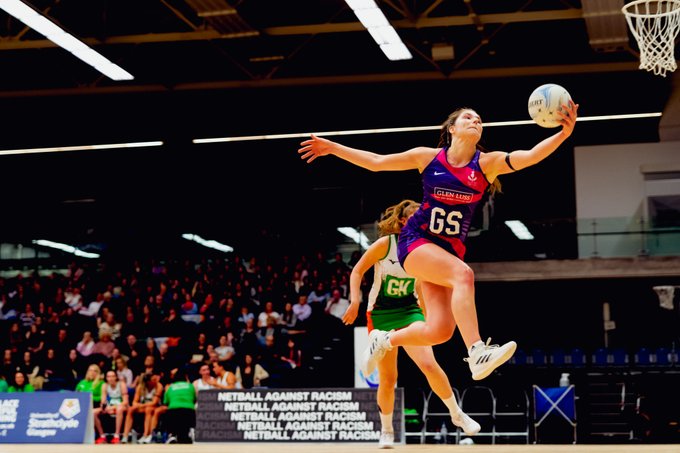 "Qualifying for the World Cup is massive for us," she explains. "It's a reward for the hard work put in by everyone involved in the Scotland set-up and will help promote and grow netball here at home." Beth and her teammates demolished the Republic of Ireland, Northern Ireland, Gibraltar and the Isle of Man during the recent qualifiers in Glasgow. Despite a narrow loss to Wales in the final match, the Scottish Thistles are heading to Cape Town this July.
"We really stepped up after the disappointment of the Commonwealth Games, and the home crowd was buzzing", says Beth. "Even though we couldn't get the win against Wales to complete the set, it was a huge confidence boost."
Win on Sunday, study on Monday
The reality of managing two careers is stark when we consider that after the highs of World Cup qualifiers, it was straight back to work the next day. When asked what it is like to win on Sunday and then go back to studying on Monday morning, Beth laughs: "It's harder when you've lost!"
After her heroics on the netball court, Beth's focus now switches back to her career as a trainee accountant. Currently preparing for her ICAS Test of Professional Skills (TPS) exams with Consilium, Beth points out that it is a team effort.
"I don't believe I could do this with any other accountancy firm", she says. "The support I get from Consilium and the Scotland and Sirens' coaches make this all possible."
How to balance dual careers
For every CA trainee, life is a balance between work and study. Add a professional career in international sport, and suddenly everything looks more complicated. Never one to shirk a challenge, Beth feeds off the adrenalin of her busy schedule and the support around her.
"My Consilium team and my netball coaches and teammates know I'm committed to both", she explains. "Equally, they understand the additional focus needed around exams and key matches; the flexibility to switch between the two is what makes the difference."
Indeed, Scotland's Head Coach Tamsin Greenway highlighted the role Consilium Chartered Accountants play in allowing Beth to pursue her twin careers with such success.
Thanks also for the support you give @bethgoodwin47 so she can thrive in both roles 👏🏼🏴󠁧󠁢󠁳󠁣󠁴󠁿

— Tamsin Greenway (@tamsingreenway) October 18, 2022
Structured, exam-relevant training with Consilium
Beth is eager to highlight the benefits of the structured and progressive training offered by Consilium and ICAS. "I'm gaining first-hand, exam-relevant experience with Consilium that covers all aspects of Chartered Accountancy. That has solidified my base knowledge from university and continued to build upon it as I head into TPS", she explains.
Like every student, Beth's ambition is to get through each set of exams with first-time passes. While most will relish the downtime that comes with exam passes, for Beth it is an opportunity to make her busy schedule a little less complicated.
"In the long run, getting through my professional exams now means I can avoid the time involved in resits", she says. "And that gives me the chance to put the focus back on netball when the new club season starts in February 2023."
Learn more about CA training opportunities with Consilium Chartered Accountants. Applications for our August 2023 intake are open until 25 November 2022.
Beth will be in action for the Strathclyde Sirens in their opening Vitality Netball Super League match against Surrey Storm on 11 February 2023. Their first home game at Glasgow's Emirates Arena is against Loughborough Lightning on 20 February 2023.
Connect with Consilium Chartered Accountants on Twitter and LinkedIn.